Coronavirus Relief Fund – To cope with the evolving Economic Crisis
COVID-19 is a pandemic declared by the WHO (World Health Organisation).
WHO has declared COVID-19 outbreak as global pandemic as it has spread in more than 200 countries. It seems unstoppable despite all governmental efforts.
Pandemic is not a word to be taken lightly. The word itself defines the critical situation we are dealing with.
Continents affected – 6.
Countries affected – More than 200
People affected – More than 16,05,000
Casualties – More than 95,000
The above data is increasing on a daily basis.
PUBLIC APPEAL – 
We are requesting you to come forward and support our initiative to cope with the inevitable economic crisis. India needs you, please follow the government advisories strictly and support the government through all possible ways. We have to fight it together. 
STAND TOGETHER BY NOT STANDING TOGETHER
The funds will be raised in the following pattern –
Phase 1 – Rs 25,00,000/-
Phase 2 – Rs 75,00,000/-
Phase 3 – Rs 5,00,00,000/-
Phase 4 – Rs 10,00,00,000/-
We will reach out to the beneficiaries directly, through project partners and through Government agencies.
Please Pay Attention – 
This campaign is running to support the initiatives against the COVID-19 and to cope with the evolving economic crisis. The treatment of Coronavirus patients is going on free of cost by the government and there should be no funds raised for the treatment of the patients. Please, don't fall prey to such scams and please check all the details before contributing to any campaign.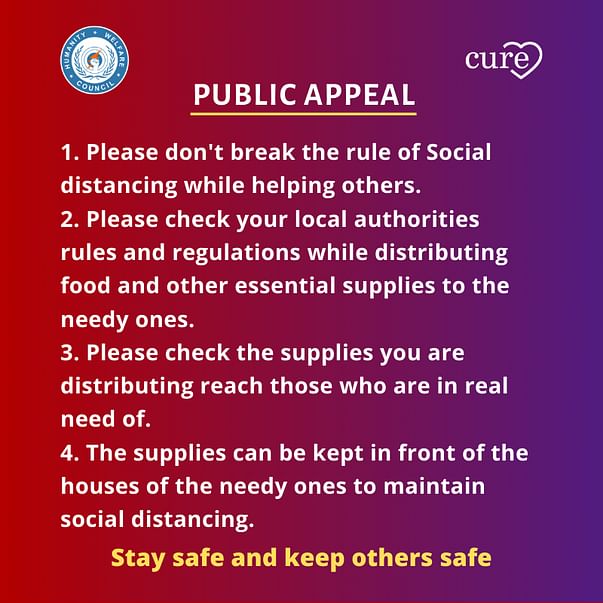 Challenge –
It is critical to stop the spread of the virus and provide medical care to those who need it. Patients and front-line medical responders in high-risk and quarantined areas need supplies and continued support as the crisis unfolds. The prices of the Masks and Sanitizers are also gaining pace in such a higher rate and are going out of reach from the low-income group society at the same time we can also see the black marketing of such items. The COVID -19 is causing global economic slowdown and Public health crisis.
In India, people are having a common fear that COVID-19 outbreak will take hold and will overpower the poor public health system. There is panic among common people which is affecting production and productivity resulting in an economic slowdown.
The COVID-19 pandemic if not taken seriously will cause a heavy loss in India due to following reasons – 

1. The informal and unorganised work sector.
2. The nation is not prepared.
3. Lack of awareness and uncooperative nature of people.
4. We are a highly populated country and we are still in the developing phase.
5. Developing a vaccine requires a good amount of time and COVID-19 is highly contagious.